Extras and Fun Stuff
Extras & Fun Stuff
At Starved Rock Pet Resort your pet can enjoy a wide variety of fun and healthy activities.
River Walk... A half-mile walk (on lead) by our dedicated experienced staff. Your pet may see deer, herons, bald eagles, and owls depending on the time of day. This walk is good for a high-energy dog.
Bird Watching on the River... A relaxing stroll down to the river where your dog can count the herons as they fish for their supper. Your pet may also see turkeys, deer, eagles, and other woodland animals in this natural setting.
Board and Train... A half-hour training session for guests in obedience and good doggy manners. We will work on what you feel your dog needs to be the best that he or she can be.
Garden Walk... A shorter walk also on lead, that meanders through the woodland wildflower garden and along our creek. This walk is great for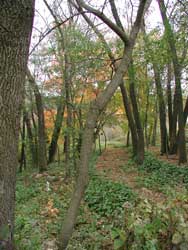 small or more sedate dogs.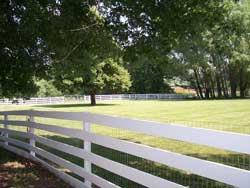 Frisbee Fields... A very large fenced area of grass and trees, where your dog can romp (off lead) under the supervision and play Frisbee with his own personal caregiver. This is an excellent exercise for those dogs that love to retrieve.
Agility Playground... For those dogs who enjoy the dog sport of Agility. We are adding Agility equipment to our Frisbee Fields fenced arena. This activity is great for those dogs that are familiar with the sport.
Extra cuddle time is available in 15-minute increments for both cats and dogs.
Grooming is available for all of our guests. We offer many grooming services to meet your pet's needs. You can request just a bath so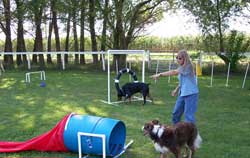 your friend is extra clean on his return or chooses from our full-service grooming packages and add deluxe spa services such as a dead sea mineral mud scrub to soothe his skin and leave him extra soft. Our baths come with a free Blueberry Facial for your pet to enjoy.
We have camp packages that allow you to choose multiple activities for your pet's vacation at a discounted rate.