Camp Programs
Hot Dogs for Everyone
Our Camp Programs allow you to customize your pet's vacation experience and save money. Whether you choose high-energy activities or more relaxed pursuits, rest assured your pet will be experiencing the time of his life under the supervision of our dedicated staff as they explore the many activities and experiences available to them at SRPR.
You may choose from a list of activities for your camper based on their needs. For the very active dog, you might select the frisbee fields, river walks, diving for weenies etc. For the more sedate dog, perhaps a casual garden walk and extra cuddle time.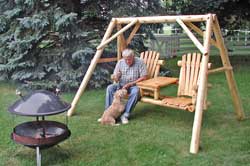 Boot Camp, our best value, includes ten (10) exercises of your choice from a wide range of activities. You may pick and choose according to your camper's energy level. Our Boot Camp Program allows you to select ten activities tailored to your pet's preferences. This program works well for guests staying 5 days or more.
Our Happy Tails Camp is designed for the older or more sedate dog. It includes 6 activity sessions. Bird watching on the Vermillion River and strolling in the wildflower ravine on the garden walk are favorites. Extra snuggle time on the glider or at the Campfire weenie roast is also popular. This package is an excellent choice for those staying for fewer days.
Our Fast Track Camp package is great for dogs that require a lot of attention and need to get out and run more often. Designed to use two (2) activities per day, it is comprised of twelve (12) shorter activities in the Frisbee Fields for the same price as the Happy Tails Camp.