Zymox Soothing Allergy Bath
And Conditioner……….$8 w/groom
De Shed Treatment………$10 w/groom
Oatmeal Shampoo…….. $5 w/groom
Hypoallergenic - Non-scented,
Tearless Shampoo…$5 w/groom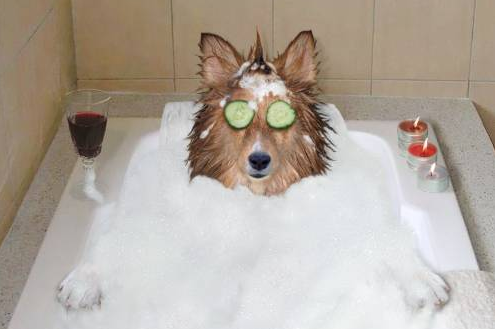 Fur Butter……….. $5 w/groom
Ultra Rich Conditioning
Dead Sea……….. $5 w/groom
Mineral Mud Scrub
Bow wow Butter Balm & Paw Bubble Bath.. $8 w/groom
Rich Paw Treatment
PlaqClnz……….. $5 w/groom
Dental Care
Dead Sea Salt Scrub……….. $5 w/groom
Dandruff Treatment
Flea Bath……….. $8 w/groom
Day at the Spa Upgrade
Pick TWO Treatments PLUS Special
Hydrating Shampoo and Conditioner with Yummy scent of your Choice!
$15
All of our products are available for purchase to keep your pet fresh between visits to the spa. We have many all natural options to keep your animal companion healthy and fresh on a daily basis, including aromatherapy mists, breath fresheners, spray on bath replacement and many herbal supplements. Fetching Frieda's offers many grooming tools including brushes, combs, flea combs, and nail clippers.